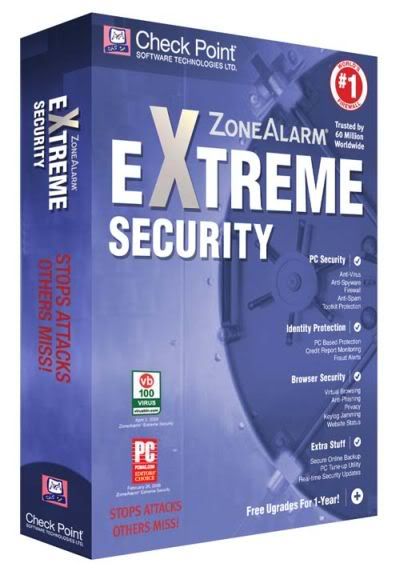 The most comprehensive suite on the market. Protects your PC, your browser, and your data. The more time you spend online, the more at risk you are. That's why we created ZoneAlarm Extreme Security, the strongest and most comprehensive security suite to protect all areas of your online life. Includes ZoneAlarm ForceField browser security. ZoneAlarm Extreme Security package includes everything in ZoneAlarm Security Suite and integrates the comprehensive Web security features of ZoneAlarm ForceField, which includes anti-phishing and drive-by download protection, as well as Web site security detection, a privacy mode for shared computers, and more. ZoneAlarm Internet Security Suite will not only eradicate threats but also prevent them from ever entering in the first place. Comprehensive protection defends your PC with robust firewall technology and stops identity thieves and spammers in a single, easy-to-use application.

ZoneAlarm ForceField application was created to be a lightweight software for your Web browser, designed to protect you from Web-based threats such as phishing and spy sites, theft, spyware downloads, and privacy invasions.

ZoneAlarm Extreme Security is the easy-to-use, comprehensive security solution that is based on the world's best firewall to keep out hackers, viruses, worms, and other threats. It combines the most popular firewall with antivirus, Web site filtering, privacy protection, instant messaging security and more to provide the best overall protection of any PC security suite.

ZoneAlarm Extreme Security is comprehensive, all-in-one suite is a tightly integrated set of advanced security layers that, together, create the most secure protection in the industry. Uniquely engineered to prevent threats from getting on a PC in the first place, it has won more major awards than any other security software on the market. The suite combines the robust security features computer experts demand with automatic functions that make it simple enough for novices to use.

PC Security
• Unified Scan Engine makes detection and removal of viruses, spyware, Trojan horses, worms, bots, and more faster and easier – independently tested to provide superior protection.
• Fastest Updating Signature List detects and stops even the most recent viruses that others miss.
• 2-Way Firewall. Stops Internet attacks at the front door and even catches thieves on their way out. Our 2-way firewall proactively protects against inbound and outbound attacks while making you invisible to hackers.
• Operating System Firewall (OSFirewall). No anti-virus or anti-spyware product is 100% effective, so ZoneAlarm invented the OS Firewall. The OS Firewall monitors behaviors within your computer to spot and stop even the most sophisticated new attacks that bypass traditional anti-virus and security suites.
• Additional Layers. Multiple layers of advanced protection provide unsurpassed security.

Identity Theft and Data Protection
• Hard Drive Encryption for Laptops. If your PC is stolen or lost, Zonealarm encryption makes everything on your computer's hard drive unreadable to unauthorized eyes – and we even secure deleted files too.
• Identity Protection Services. Identity theft can happen to anyone, anywhere. ZoneAlarm delivers superior PC based protection and exclusive data encryption, and also offers offline ID protection services.
• Secure Online Backup. Your tax returns, your music and your photos are valuable to you. Protect your files in the event of loss, theft, accidental deletion or disc failure.

Browser Security
• Virtual Browsing. Allows users the freedom to surf with full protection against malicious software like drive-by downloads, Web browser and plug-in exploits.
• Advanced Download Protection. Automatically analyses your downloads to determine if they are safe or malicious. Includes an advanced security check that runs and analyzes the download in a protected environment.
• Dangerous Web Site Detection. Blocks spyware distribution sites and fraudulent "phishing" websites that trick you into revealing personal data.
• Keylogger & Screengrabber Jamming. Protects your identity by keeping your keystrokes, and click trails private.
• Private Browsing. Erases all cache, cookies, history and passwords and lets you browse the internet in complete privacy.

Ease of Use
• PC Tune-Up. Keep your new PC running smoothly. Automatically cleans, organizes and streamlines your computer so it runs faster.
• Automatic Operation. Focus on what you want to do, we take care of the rest.
• User-Friendly Interface. Easy for anyone to use and customize.

An inbound firewall prevents Internet attacks such as hackers from coming into your computer. Any suspicious or unauthorized communications are filtered by the firewall. However, if these threats get through your firewall your personal data could then be transmitted back out to the hacker. To catch these thieves on their way out your firewall must be capable of automatically blocking unauthorized outbound communications - "outbound protection".

Some firewalls don't have what's called "outbound protection". That means they can't control information that leaves your computer. This is risky, since hackers have ways around inbound firewalls. The ZoneAlarm outbound protection references our constantly updated database of trusted programs and program behavior—so the ZoneAlarm firewall can make security decisions safely and automatically.

FEATURES:
• Advanced Download Protection. Analyzes browser downloads in three unique ways before they can infect your PC and warns if they are malicious.
• OSFirewall. Monitors changes within your computer to spot and stop new attacks that bypass traditional anti-virus protection.
• Free Credit Bureau Monitoring. Protects your identity with daily credit report monitoring and provides victim recovery services.
• Anti-phishing and Site Status. Blocks fraudulent websites including "phishing" sites that trick you into entering personal data.
• Keylogger / Screengrabber Jamming. Protects your passwords and other key strokes from being stolen by identity thieves.
• Two-way Firewall. Keeps hackers out by making your PC invisible online and blocking intrusions.
• Anti-Spam. Filters out annoying and potentially dangerous email.
• Hard Drive Encryption. Keeps your identity and data private in the event of PC loss or theft.
• Virtual Browsing. Allows users to surf with full protection against malicious software like drive-by downloads and browser exploits.
• Unified Scan Engine. Makes superior detection and removal of viruses, spyware, Trojan horses, worms, bots, and other malicious software faster and easier.
• Private Browsing. Erases your surfing tracks and allows you to surf the Internet in complete privacy.
• Secure Online Backup. Backs up files and restores your data in the event of hardware malfunction.
• PC Tune-up. Cleans, organizes and streamlines your computer for improved performance.
• Parental Controls. Filters and blocks inappropriate websites.

Operating system:
* Microsoft Windows, XP SP2 or SP3 Home / Professional 32-bit, 1GB RAM
* Microsoft Windows Vista SP1 or SP2 Business / Home Premium / Ultimate: 32-bit / 64-bit
* Microsoft Windows 7: 32-bit / 64-bit

Download:

All links are interchangeable

The keygen i provided works almost with any zonealarm edition first i will tell you how to crack zonealarm pro and then if you want to crack another edition do exactly the same think
the keygen does not have serial for extreme security so i will post it as a txt file and i hope it will work i will wait for your replies
Do not forget to remove the file you made as read only before you install zonealarm 2012 because you will have problems .. this only if you had earler versions installed
ZONE ALARM PRO 2012
Please follow the next steps and your zonealarm will be cracked, but please report your result because as of a few days before im using my own genuine serial. Lets start
1st
INSTALL ZONEALARM PRO
4st
DOWNLOAD THE keygen file
[size=18]
Now lets start.

1. Install "ZoneAlarm Pro" and restart your PC.

2. Enter the serial number using above keygen then, restart your PC in the safe mode ( F8 while booting ).

3- Search your system drive for a file called "zllictbl" but to find it you must search in the hidden files like this :
press the search icon -> All files and folders -> More advanced options ( then check "Search hidden files and folders" -> press "Search"


For XP Users
C:\Documents and Settings\All Users\Application Data\CheckPoint\ZoneAlarm\Data

Same with Vista / Seven (Depend on the file location)

4- after you've found it ( right click the file -> properties ) uncheck "hidden" box, & in the "security" tab Check "deny" box towards "write" permission for every user name appears in properties window ( see "figure 1" ), then, apply -> ok.
Enjoy...
zonealarm extreme security setup
zonealarm extreme security key hope it works
zonealarm antivirus+firewall setup