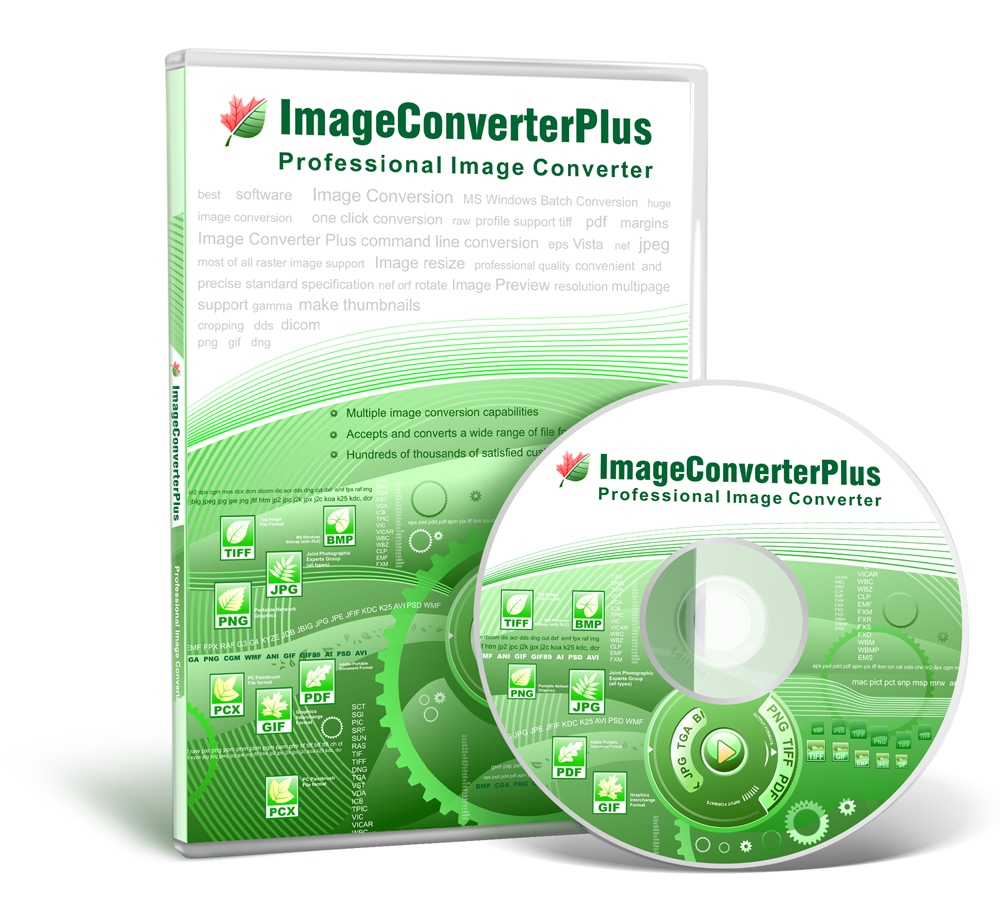 Share Your Images with Friends and Colleagues
Before uploading images to any of the Internet's many photo hosting sites, you go through a series of steps with each image: fixing any quality issues, adding a watermark, adjusting image size and finally uploading the image. You don't notice the process when you're just uploading one or two images, but if you have five or more images to show the world you want to optimize the process. ImageConverter Plus lets you automatically upload images to Picasa Web Albums. Your images are just one step away from the Internet!
Professional Features for FREE!
ImageConverter Plus is a professional commercial tool that can handle over 800 data formats , batch process thousands of images at once, modify very large files just as quickly as small ones, make subtle adjustments to image parameters, add graphics effects and metadata. You can use all these features FREE if you upload your images to Picasa!
The trial version of ImageConverter Plus includes the Upload to Picasa function, and you can use it without the program putting a demo watermark on your images.
Features
ImageConverter Plus is professional image conversion software containing a wealth of tools for altering and improving images. You can use all these tools when you send your images to Picasa! Resize and sharpen your images, add watermarks and metadata, and much more. Create a processing profile and never repeat your steps again. And with the right-click menu, you can upload your images to a host without ever launching ImageConverter Plus.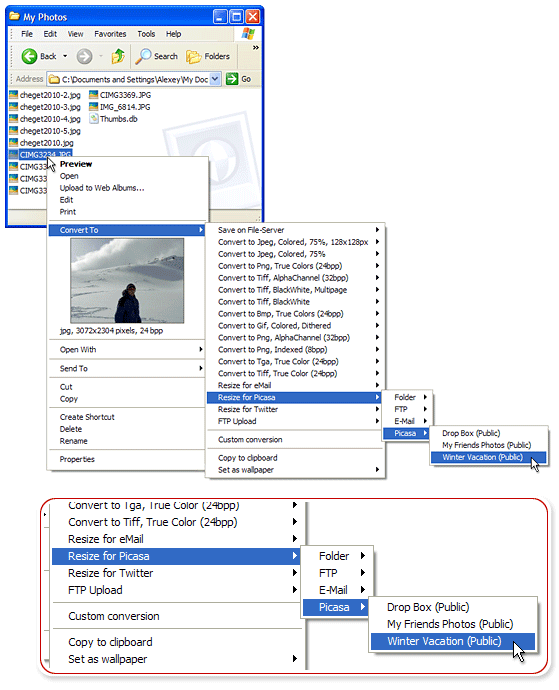 How Does It Work?
Enter your Picasa Web Albums login and password and ImageConverter Plus lets you save converted files directly to your albums.
If you've worked with ImageConverter Plus before, you won't have to change your existing profiles or create a new profile to use this convenient feature. Just choose the album where you want to save your converted files: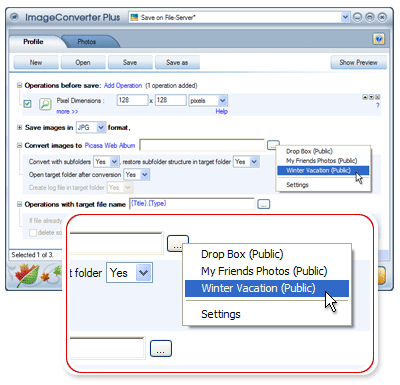 Supported formats
Image Converter Plus supports a large number of file types. In the Windows operating system, the file type is usually shown by a 3-character extension after the file name.
File types supported by ImageConverter Plus are listed below
A: acr, ani, apm arw,
B: bga, bmp, btf
C: cal, cals, ch, clp, cr2, crw, ct, cur, cut
D: dcm, dcr, dcx, dds, dib, dic, dicom, dng, dpx, dxf
E: emf, eps, epi, exr
F: fpx, fxd, fxm, fxr, fxs
G: g3, g4, gg, gem gif, gsm
H: hdr
I: icb, icn, ica, ico, iff, img, img (Vicar)
J: j2c, j2k, jb2, jbg, jbig, jfif, jng, jp2, jpc, jpe, jpeg, jpg, jpx
K: k25, kdc, koa
L: lbm
M: mac, mda, mef, mix, mng, mos, mrw, msp, mtv
N: nef
O: orf, otb
P: pam, pbm, pcc, pcd, pct, pcx, pdb, pdd, pdf, pef (Pentax RAW), pef(Samsung RAW), pfm, pgm, pic, pic (Biorad), pic (Psion), pic (Softimage), pict, pix, png, pnm, ppm, psg, psd, psp, pvr, pxn, pxr
R: raf, ras, raw, raw (Panasonic), rgb, rgbe, rla, rle, rle (Compuserve)
S: sct, sff, sgi, snp, srf, sr2, sun, sys
T: tf8, tga, thm, tif, tif (Canon RAW), tif (Phase One RAW), tif (Samsung RAW), tiff, tpic
V: vda, vga, vic, vicar, vst
W: wb1, wbc, wbd, wbm, wbmp, wbz, wmf, wpg
X: x11, xbm, xpm, xwd, xyze
Home Page -
TUTORIAL AND CRACK INCLUDED!
JUST 9 MB!!
DOWNLOAD
Image Converter Plus 7.1.20 Build 80708 + Patch
(5.84 MB)
Code:
http://rapidshare.com/files/209896602/ImageConverterPlus7.1.20Build80708.rar
Patch VirusTotal Results
Code:
http://www.virustotal.com/analisis/93ec69e65901cc7986fcaa723543e190
Warning!-May cause virus alarm so don't worry its false positive..