Screenshots: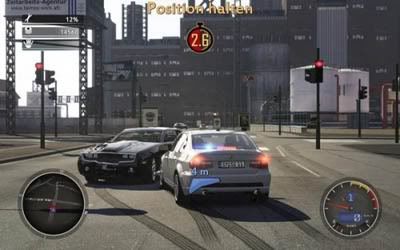 Game Info:
Code:
Crash Time 4 The Syndicate 2010

[Full Rip]


PC | Windows | English | Developer: Synetic | 489 MB
Genre: Arcade/Racing (Cars)/3D

In Crash Time 4 players are chasing down a criminal syndicate whose members are trying to stop the police and gain control over the scenic city of Cologne. Based on the German TV series Alarm Cobra 11 players slip into the roles of the two highway cops Semir and Ben the TV main characters. Thus players go through various missions based on the events of the TV series. While patrolling the breathtaking German city of Cologne Semir and Ben are called to various action-packed police operations. While responding to these calls players also need to neatly monitor the streets. Criminal subjects and members of the syndicate are scattered all over the street. Players can experience the game in single player mode or multiplayer which allows up to eight players to play challenges online.
Minimum System Requirements:
Code:
- Operating system: Microsoft Windows XP / Vista / 7
- Processor: AMD Athlon 64 4000 + / Intel Pentium 4 3.2 GHz
- Memory: 1 GB (Windows XP) / 2 GB (Windows Vista)
- Hard disk: 2 GB
- Sound system: compatible with DirectX
- Video: nVidia GeForce 8600 / ATI Radeon HD3650 with 256 MB
How To Install:
Code:
1.Run Setup.bat
2.wait 10 min
PARTS 1GB
100% WORKING
password
OR