Genre : Logic (Puzzle) / 3D / 1st Person
Platform : PC - 2011
Publisher: Valve Software
Developer: Valve Software
Genre: Sci-Fi First-Person Shooter
Release Date:Apr 19, 2011 (US)
Toothless Release: yesterday
ESRB: EVERYONE 10+
MSRP: $0.00 with pirate discount
SKIDROW release
21 Languages
1GB links/7 Downloads 500MB/ 15 Downloads
MU & FS 1GB interchangable/500MB Rapid Share links
6.898 GB ISO Image
6.570 GB when mounted
Game install is 11.4 GB
Game installed on Windows7/64bit/Home Premium



Game Info


Portal 2 draws from the award-winning formula of innovative gameplay,
story, and music that earned the original Portal over 70 industry
accolades and created a cult following. The single-player portion of
Portal 2 introduces a cast of dynamic new characters, a host of fresh
puzzle elements, and a much larger set of devious test chambers.
Players will explore never-before-seen areas of the Aperture Science
Labs and be reunited with GLaDOS, the occasionally murderous
computer companion who guided them through the original game.
The game's two-player cooperative mode features its own entirely
separate campaign with a unique story, test chambers, and two new
player characters. This new mode forces players to reconsider
everything they thought they knew about portals. Success will require
them to not just act cooperatively, but to think cooperatively



Game Features


- Single player campaign. Fascinating story and an unusual game
mechanics will make you forget about time and not let off the screen
for several hours.
- A game for two players. Independent storyline, new characters
and unique gameplay features.
- Improved physics. In Portal 2 all became more interesting, unusual
and confusing, but not harder!
- Music Vision. The original soundtrack perfectly fits into the unusual atmosphere of the universe Portal.



Minimum System Requirement


System: Windows 7 / Vista / XP
Processor: 3.0 GHz P4, Dual Core 2.0 (or higher) or AMD64X2 (or higher)
Memory: 1GB XP / 2GB Vista
Hard disk: At least 7.6 GB of Space
Video: Video card must be 128 MB or more and should be a DirectX 9-compatible with support for Pixel Shader 2.0b (ATI Radeon X800
or higher / NVIDIA GeForce 7600 or higher / Intel HD Graphics 2000
or higher).
Sound: DirectX 9.0c compatible

Rapid Share 500MB/15 downloads
6.898 GB ISO Image.
Language: 21 languages
5% Winrar Recovery Record included in downloads
Quote:
Got Problem Files ??? We got the fix for corrupt files!
1. Within Winrar, run "test archive" to check your files.
2. If you have a problem file, run winrar "repair". Then test again.
3. Re-Download the file again usually fixes the corrupt file.
Still have a problem download?
4. MD5 Hash Value - unique file identity
To check your download with the original uploaded file, compare the MD5 Hash Value.

-Small file. Add to your system. How it works:
1- after install, right click properties of the file.
2- go to Hash Tab
3- program generates a unique number (MD5) to identify a specific file.
-if your number does not match mine, that would be the problem file. You
would need to re-download the file again and that usually fixes the problem.
-This is quite simple to do and we can identity the specific problem file.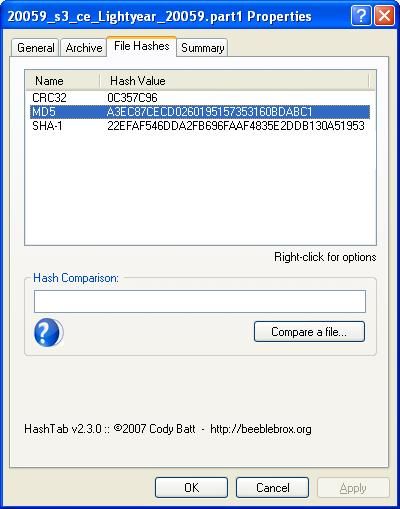 MD5 Hash Value-1GB Portal 2 links
part 01-8EF364E66DF45BE195991BC32DC509BB
part 02-764B446EC515CE230B610FA159C59CDC
part 03-5519CB3B671071FBDFA3308516EF8B0F
part 04-54B4F7581A28BBE256A91F600CD4A822
part 05-0578D89824E385DBD74B811B226E588B
part 06-B5B9829E5BE78EE60B0498BA56DEAD3C
part 07-002FFB4F968302D4D99B92C539842F1D
New May 10-SKIDROW Update 4/5 game patch and crack
You dont need prior updates. Only 4/5.
1-make copy of your save game files
2-double click the Update1 game patch and install
3-Apply cracks in the proper game install folder
Saiko117 wrote:
Zero_NZ wrote:
Can't even get passed the portal 2 loading screen

put client.dll and server.dll in
portal 2/portal2/bin instead of just

portal2/bin. Just did that and it worked for me. Also make sure
that the other 4 files are in the main installation folder.

[TUT] How to download using Safelinking.net at PClives
MU 1GB links interchangable with File Serve 1GB
6.898 GB ISO Image. 1GB/ 7 Downloads
Language: 21 languages
Tutorials - How to mount a Gaming Image and install the Game
How to install:
1-download files and run winrar "test archive"
2-Mount ISO image on your virtual drive
3-follow screen shot install below


Cracking the game.......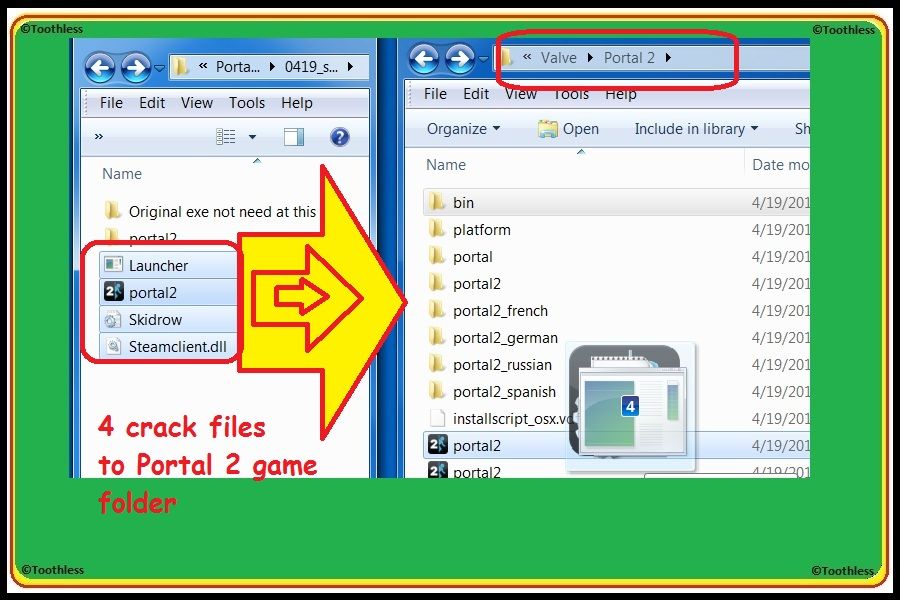 ENJOY!!!!