Experience the next generation of shoot 'em ups with Zeit Squared. Travel through time to co-op play with a copy of yourself. Pull off amazing moves to defeat 8 massive bosses. Pace the game and improve your score with the powerful fast forward feature! Discover 6 unique game modes and beat 70 challenges in this innovative and action packed arcade game.

Zeit Squared is a traditional side-scrolling, 2D, shoot'em up game that brings unprecedented elements to the game experience. Zeit Squared's unique time travel feature has yet to be seen in this genre even after decades of great games.

Intuitive controls allow players to move forward and backward in time making it possible for the player to combine shots and power, and even be assisted by a shadow version of yourself. Blast away swarms of enemies, get the highest score and discover how you can assist yourself in new exciting ways by warping time at will.
Unique and challenging gameplay
+ Rewind feature is cool
+ Tons of different modes
+ Full Steam support
+ Controller enabled
OS: Windows XP SP2 / Vista / Windows 7
Processor: Intel core 2 Duo 2.13 GHz or equivalent
RAM: 2 GB
Hard Disk Drive: 2 GB free disk space
Graphics: 256 MB with Shader Model 3.0
DirectX 9 compatible sound card
DirectX 9.0c
Keyboard
Mouse
DVD-ROM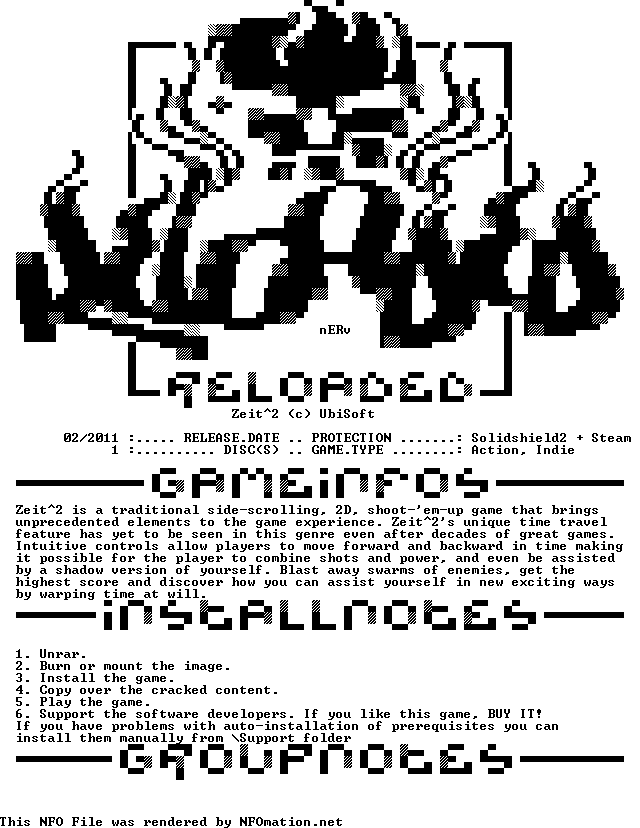 10% Recovery Record
Size

: 374 MB