---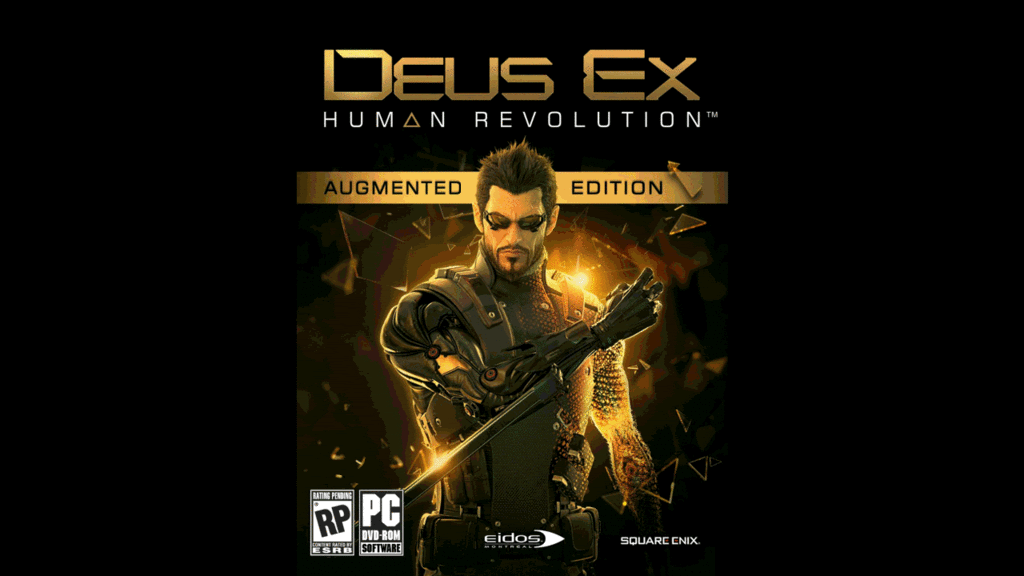 **I put a lot of work into my screen shots, I dont approve you
to copy/paste my work without asking. I hope others that
enjoy my game topics will agree
***

Deus Ex: Human Revolution-PC Game
Augmented Edition Bonus Mission
Genre: First-Person Shooter
Publisher: Square Enix
Developer: Eidos Studios - Montreal
M for Mature: Blood, Drug Reference, Intense Violence, Sexual Themes, Strong
Language, Use of Alcohol.--->>>> Cheers!!
MSRP: $49.99

FULL Version, not demo. Contains all game files/audio/video
MSRP: $0.00 with pirate discount
Languages: English and many Language packs at bottom of topic.
Game ISO is 8.687 GB 1GB/8 Downloads
Game installed on Windows 7/64bit Home Premium
Game Info
To save his life, the fundamental choice of whether or not to become augmented with
cybernetics has been removed from Adam Jensen's life. Driven by the conviction of
never having a choice taken from him again and using his newfound power, his need
for answers will unravel the truth behind a conspiracy rooted in the foundation
of the world around him as it incites a new revolution.
Deus Ex: Human Revolution follows up on the critically acclaimed Deus EX and Deus
Ex: Invisible War as the the third game in the strategic sci-fi action series.
When a black ops team breaks in and kills the scientists Adam were hired to protect
as a guard of one of America's most experimental biotechnology firms, everything
you thought you knew about your job changes. At a time when scientific advancements
are routinely turning athletes, soldiers and spies into super-enhanced beings,
someone is working very hard to ensure mankind's evolution follows a particular
path. You need to discover why -- because the decisions you take and the choices
you make will be the only things that can determine mankind's future.
Game Features
•A divided near-future: discover a time of great technological advancement, but
also a time of chaos and conspiracy. Mechanical augmentations of the human body
have divided society between those who can afford them, and those who can't. Opposing
forces conspire from the shadow to control the destiny of mankind: a human revolution
is coming.
•A perfect mix of action and role-play: the game uniquely combines action-packed
close-quarter takedowns with intense shooting, offering a vast array of character
augmentations and upgrades for the many weapons at your disposal. Unlock new
abilities and increase your stealth, social, hacking or combat skills: the game
rewards all styles of play and approaches. Determine how you want your character
to evolve, based on how you want to play the game.
•Choices and consequences: shoot your way through your enemies, sneak up behind them
without being traced, hack systems to retrieve crucial information, or use your social
skills to extract information from key characters - there are always choices, multiple
approaches, multiple paths and multiple tools at your disposal. Choose your playing
style and face the consequences of your actions: you decide how the story unfolds.
xtrapas wrote:
moamenhassan12 wrote:
hi tooth can u tell plz if this includes the Augmented Edition bonus mission?

yes, has exta sh¡t and i got a "special" mission later one (there is a ton in it
)
Minimum System Requirement
Minimum Requirements
•Windows XP, Windows Vista or Windows 7 with DirectX 9.0c
Processor: 2 GHz dual core
1 GB RAM (Windows XP) / 2 GB (Windows Vista and Windows 7)
NVIDIA GeForce 8000 series or ATI Radeon HD 2000 series or better
8.5 GB of disk space
1GB links are interchangable

Jumbo Files 1GB links.
8.687 GB ISO Image. 1GB/8 Downloads
Language: English,
5% Winrar Recovery Record included in downloads





Peeje 1GB links.
8.687 GB ISO Image. 1GB/8 Downloads
Language: English,
5% Winrar Recovery Record included in downloads





Wupload1GB links.
8.687 GB ISO Image. 1GB/8 Downloads
Language: English,
5% Winrar Recovery Record included in downloads





Rapid Share 1GB links.
8.687 GB ISO Image. 1GB/8 Downloads
Language: English,
5% Winrar Recovery Record included in downloads






Wupload ISO image (8.48 GB) 1 download
English Langauge

Language packs at end of topic



Check the files your downloaded..........


Quote:
Got Problem Files ??? We got the fix for corrupt files!
1. Within Winrar, run "test archive" to check your files.
2. If you have a problem file, run winrar "repair". Then test again.
3. Re-Download the file again usually fixes the corrupt file.
Still have a problem download?
4. MD5 Hash Value - HashTab provides an easy way to verify file integrity and authenticity.
To check your download with the original uploaded file, compare the MD5 Hash Value.

-Small file. Add to your system. How it works:
1- after install, right click properties of the file.
2- go to Hash Tab/File Hashes tab
3- program generates a unique number (MD5) to identify a specific file.
-if your number does not match mine, that would be the problem file. You
would need to re-download the file again and that usually fixes the problem.
-This is quite simple to do and we can identity the specific problem file.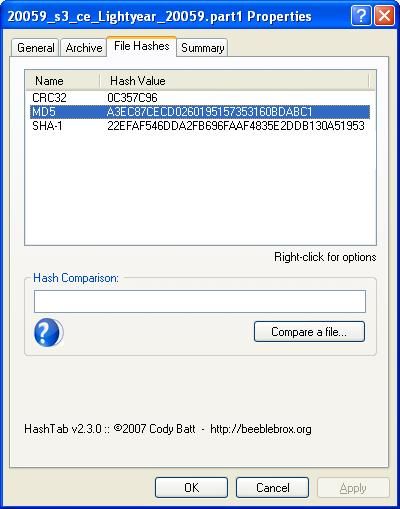 MD5 Hash Value-DEHR 1GB links
part 01-B91B6A1FB76451E83E09E2309B7C264B
part 02-3DEC9C4D803B583448EE377A9BE0394E
part 03-2E19F7E494CFD2EAD270B948E9CA9C6B
part 04-9F5C2DBF0EC212817739C888E15BD14E
part 05-573CCE77B6B4171E69513F6BF5C25F35
part 06-95191FFEAEC3BE4B8D587B9166EA87F7
part 07-44BDC7F13CA14F0E6AE5A5929D5EBA5B
part 08-7D9192A611B1E6776999318B24589207
ISO image:
CRC32: A0E649AE
MD5: 1ECB33CEC6107EDC6068523AA9AD05CF
SHA-1: C9B508D7A059FD0E90DF18465805AB5080F1F058
Quote:
About the crack files I post in my topic:
I dont make, alter, or modify original crack files. I only post
cracks from well known cracking groups. ALL game topics I upload,
I test out the game with original crack files and launch the game.
I scan the orignal crack files with McAfee AV at a minimum. If you
are not comfortable with cracking groups altering the binary file,
then dont download. What I post is NOT "tooth's" cracks.
Step #1 of 2: Crack v 1.1.622.0


Quote:
An issue was found that caused some users to be unable to start
the game on specific machines. Specifically, the presence of older
ATI/AMD drivers, also on machines with NVidia hardware, would
cause the game to crash on startup. This patch is a hot-fix for
that particular issue. On top of this, it also increases the number
of save-slots from 20, like on the PS3 and Xbox 360 versions,
to 99.



1.1.622.0 crack files by ALi123
0823-dehr_cr_v1.1.622.0_aug26.rar (50.06 MB)






1.1.622.0 dehr.exe 3/44 which is pretty safe at VirusTotal.com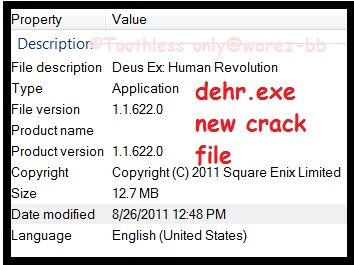 Step #2 of 2:
SKIDROW already has a Crack "FIX" out. (due to crashing)
crack fix PLUS PATCH, new version 1.2.630.0
*You need prior patch and crack 1.2.620 first*

Quote:
1-you will still need the first patch files v1.6.622
2-apply the 2 file game update to 1.2.630
3-apply the 5 files SKIDROW crack files
4-By using the SKIDROW Crack files, the save file are in a new
location.
5-Move your Ali123 save game file into the SKIDROW save game
folder.
Ali123 save folder located at: C:/Users/XXXXX/My Documents/ALI123
New skidrow folder at: C:/Users/XXXXX/AppData/Local/SKIDROW
Your AppDate is a hidden file, you need to "unhide".
Now your old saves work with SKIDROW updated crack 1.2.630






How to install:
1-download files and run winrar, click on "Commands" "Test archived files"
2-follow screen shot install below
Follow these 6 steps


Step 1 =============================



Step 2 =============================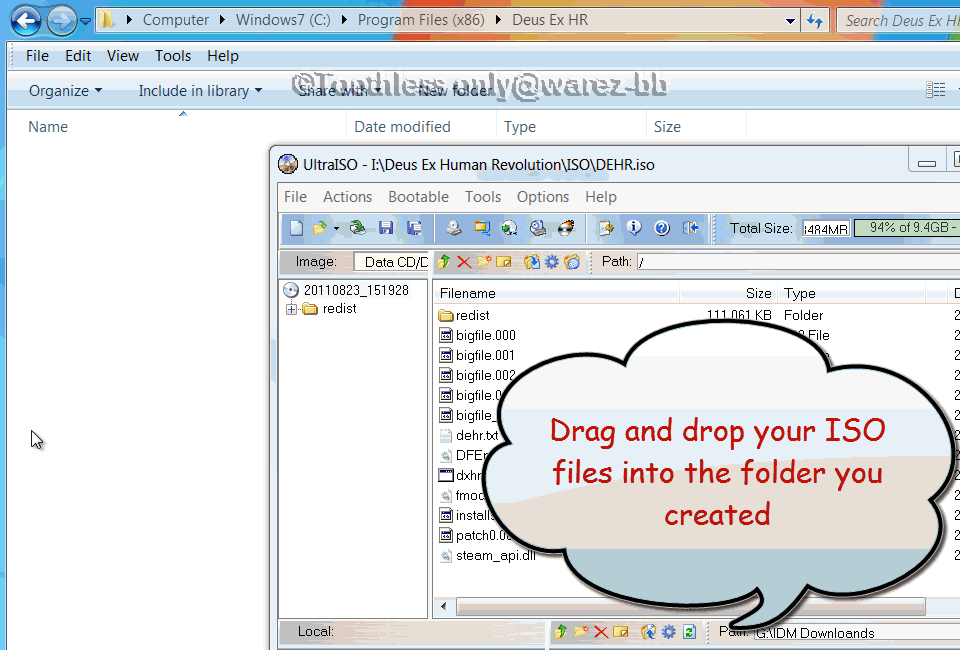 Step 3 ============================


Step 4 ============================



Step 5 ============================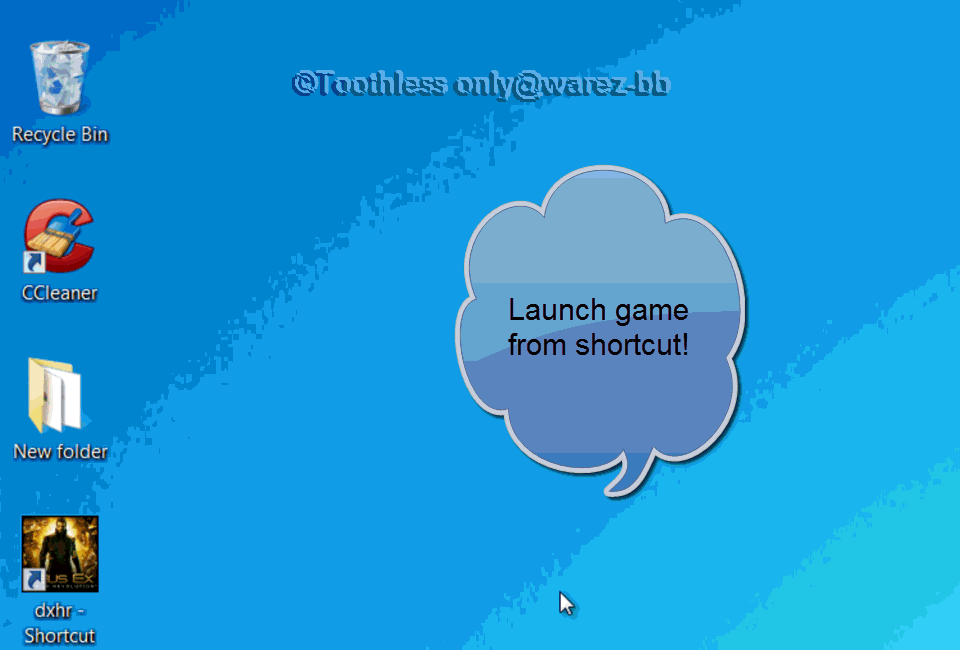 Step 6 ============================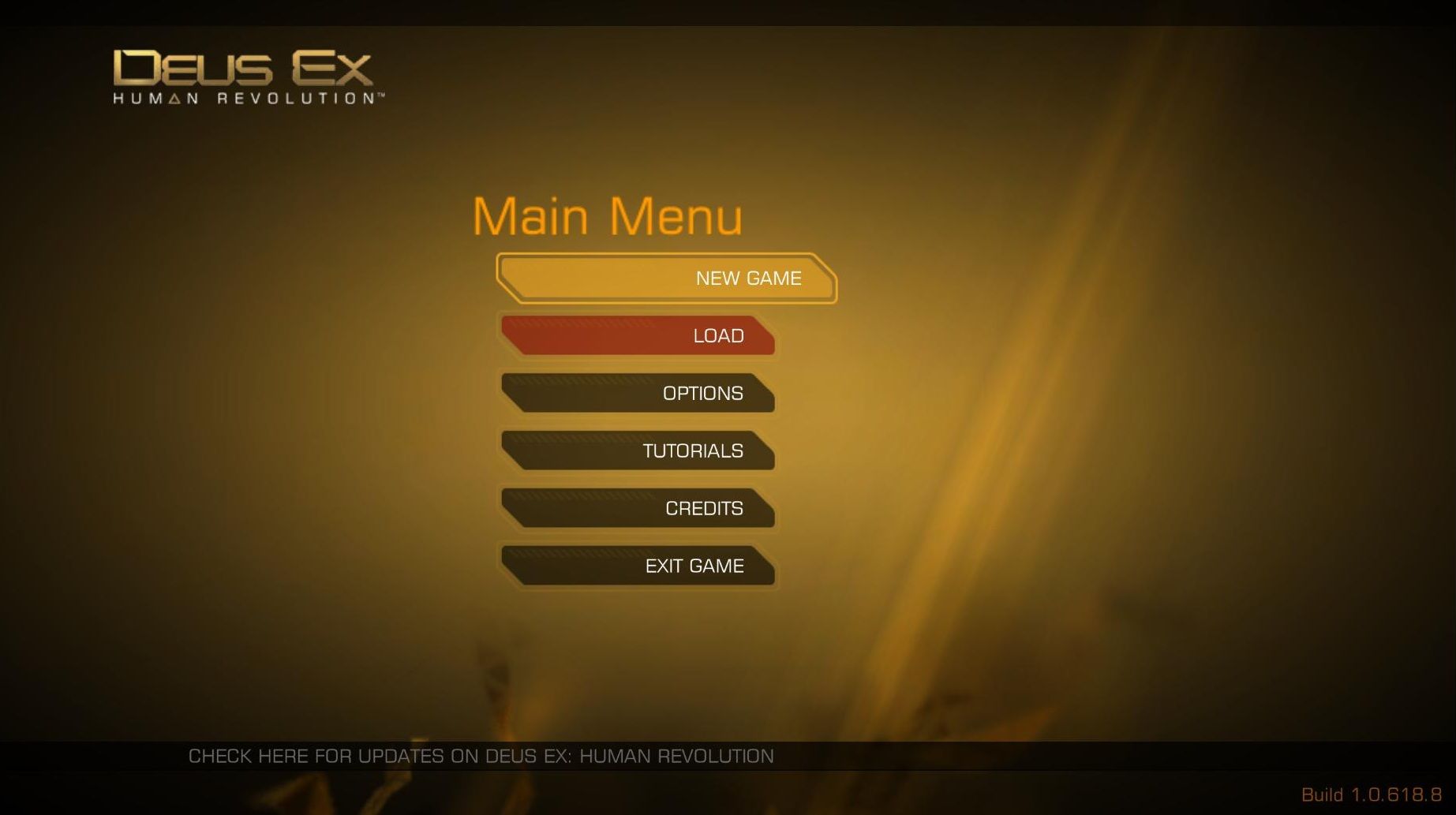 @@@@@@@@@@@@@@@@@@@@@@@@@@@@@@@@@@@@
@@@@@@@@@@@@@@@@@@@@@@@@@@@@@@@@@@@@
@@@@@@@@@@@@@@@@@@@@@@@@@@@@@@@@@@@@



Downloadable Content: Missing Link DLC




Quote:
0823_dehr_ml_dlc.part1.rar (1023 MB)
0823_dehr_ml_dlc.part2.rar (1023 MB)
0823_dehr_ml_dlc.part3.rar (975.81 MB)
0823_dehr_ml_dlc_sr-cr.rar (6.01 MB)






===========================================
===========================================
===========================================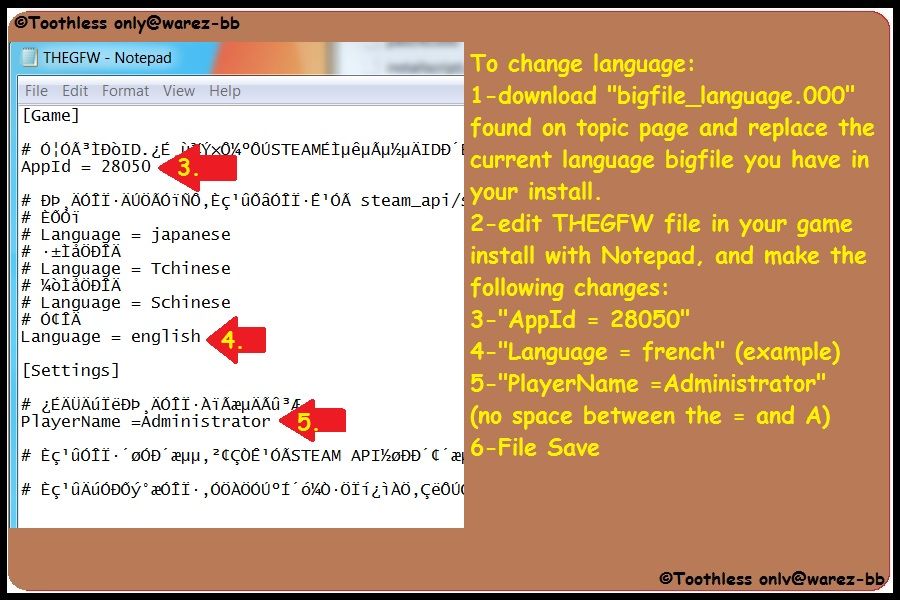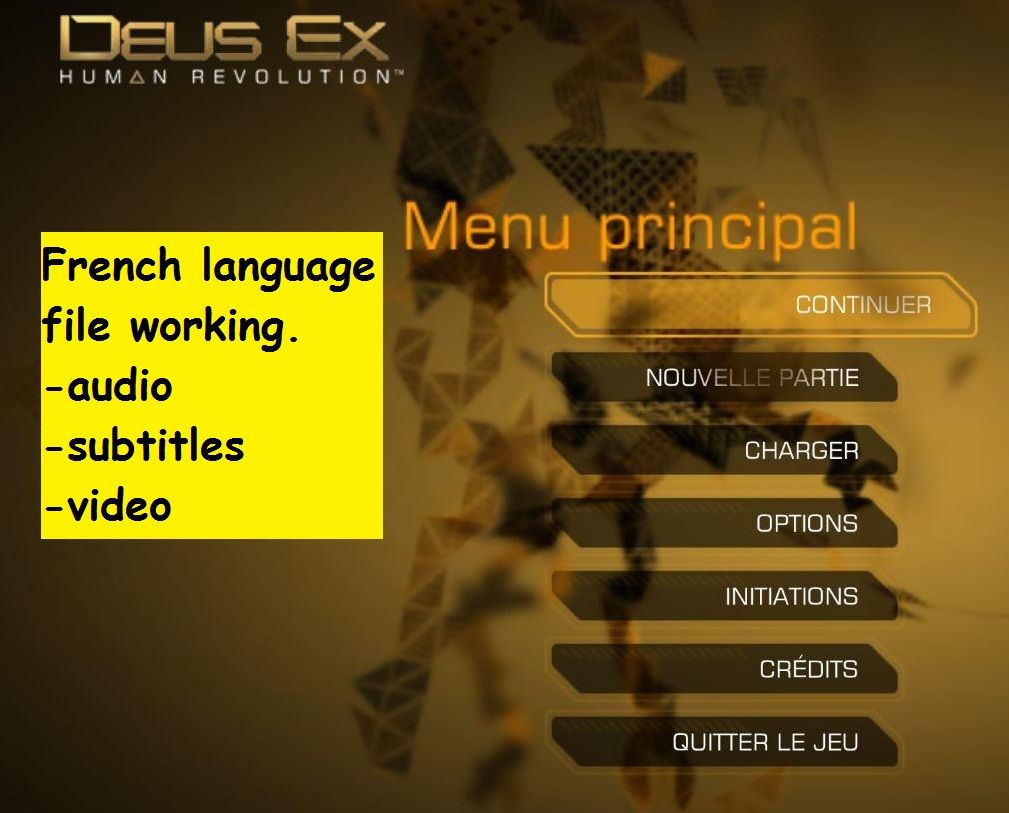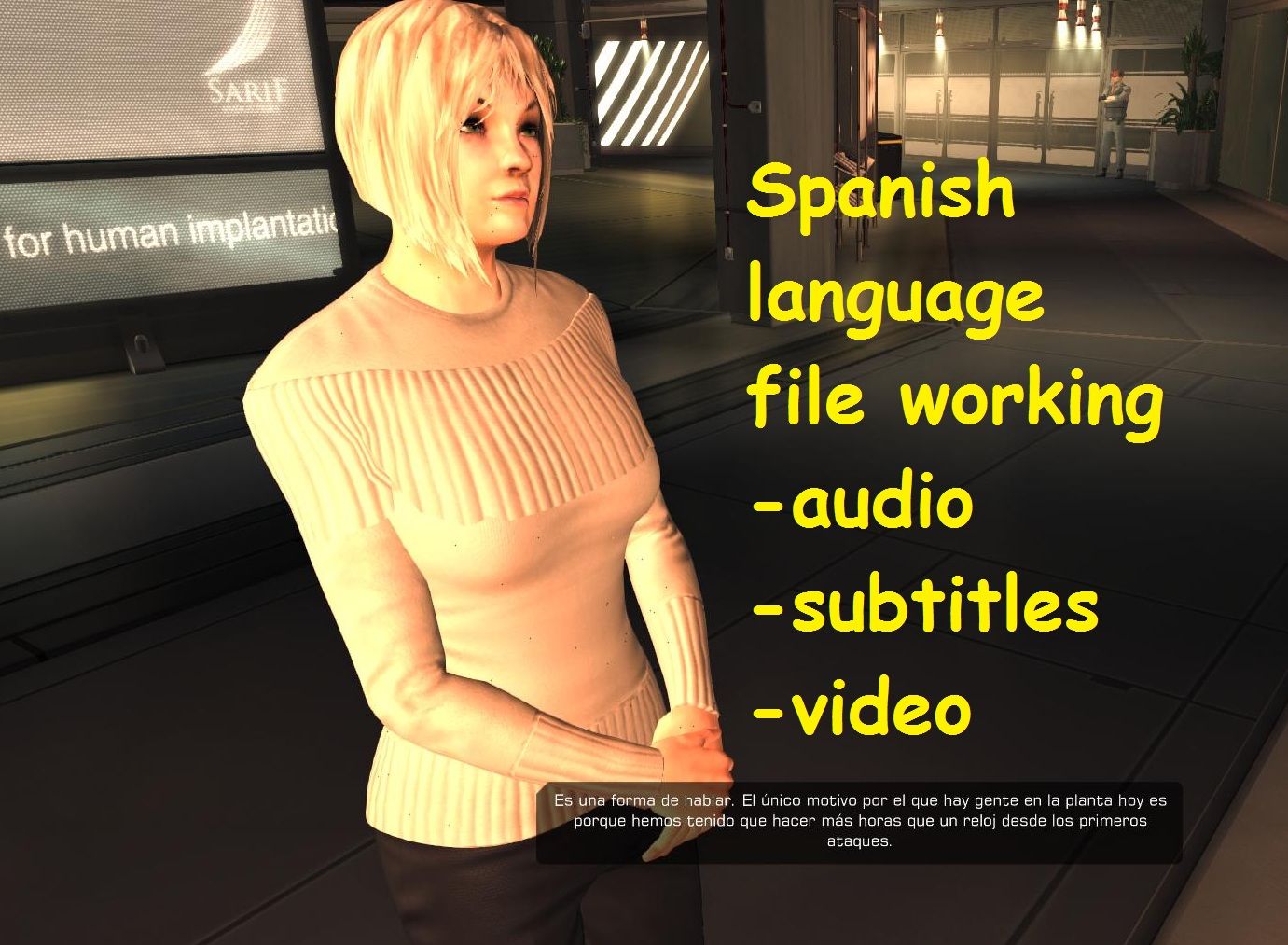 Spanish file provided by forum member "mhcvel"
Italian provided by forum member "mhcvel"
Russian provided by forum member "mhcvel"




To change your language, download the file below:


Code:

French
0823_dehr_french.rar (617.85 MB)
Spanish
0823_dehr_spanish.rar (650.72 MB)
German
0823_dehr_german.rar (714.07 MB)
Italian
0823_dehr_italian.rar (716.46 MB)
Russian
0823_dehr_russian.rar (738.98 MB)
























=======================================


Game Fixes

are you getting this:


Quote:
I get an error like

"CRC failed in the encrypted file (wrong password ?)"!


RAR cannot distinguish a corrupt file and wrong password. If it were possible, it
would make encryption weaker. Therefore, such a message may indicate both a wrong
password and a corrupt file.


Most likely it is not a password problem, but a download that was corrupt.
Open Winrar, select "commands" drop down list , "test archived files" to find out
what file/files are giving you this error.
If you identified the problem link do one or more of the following:
1-"winrar repair" the specific file
2-RE-Download the problem link and that should fix your problem.
Toothless

Quote:
Quote:
I double click on the shortscut (run as administrator) but nothing happen.
Quote:
hey i was able to fix it! here is how it works for NVIDIA gfx (!!!) users:
goto: C:\windows\system32\ and search for atiadlxx.dll and rename it to atiadlxx.dll.bak or something else.
goto: C:\windows\syswow64\ and seatch for atiadlxy.dll and rename it to atiadlxy.dll.bak or something else.

thanks for the tip with the windows event viewer. just brought me to these two files. after 5 minutes of using google i was able to find the right solution.
source:
It's working thanks you gritob and thanks you toothless for your devotedness.!
james_ant wrote:
Thanks, I was having some problems but then I installed the programs in the "redist" folder and now the game works flawlessly. I love you toothless.

For best performance and video quality, please make sure you have
the latest drivers for your video card and DirectX when running this game.

Latest ATI Drivers:

Latest NVIDIA Drivers:

DirectX End-User Runtime:

Microsoft Visual C++ 2010 Redistributable Package (x86)

Microsoft Visual C++ 2010 Redistributable Package (x64)

Latest Creative Labs Drivers:

Latest Intel Drivers:

Latest AMD Drivers:

Latest Saitek Drivers: