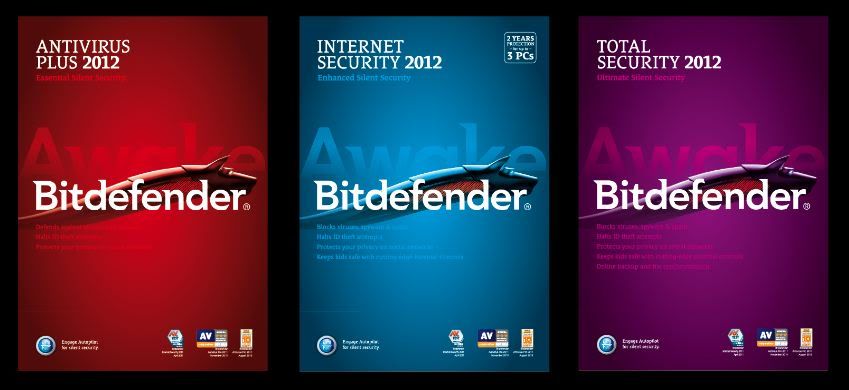 You always download the latest releases of BitDefender 2012 products because their links are those from BitDefender's website.The Patch by BOX 3.1 which converts any BitDefender 2012 Trial Version into Registered Version until year 2045, has separate links for downloading.
BITDEFENDER 2012
ANTIVIRUS PLUS - INTERNET SECURITY AND TOTAL SECURITY
(32 AND 64 BIT)
Recommended System and Sofware Requirements:
This

Comparison Chart

will help you choose the BitDefender 2012 product which suits the most your needs and requirements:
Now you that you have chosen your BitDefender 2012 product you may download it directly from BitDefender website through any of the following links which refer to

English language versions

.
BitDefender Antivirus Plus 2012
Direct download links for BitDefender Antivirus Plus 2012:
BitDefender Internet Security 2012
Direct download links for BitDefender Internet Security 2012:
BitDefender Total Security 2012
Direct download links for BitDefender Total Security 2012:
Download the Patch by BOX 3.1 (435 KB only) for any BitDefender 2012 product from any of the following working links:
BitDefender 2012 - Brief Instructions: Installation and Patching
Code:
1) Uninstall from the PC any Antivirus or Security Suite or any previous BitDefender version and restart the PC.


2) Download the chosen BitDefender 2012 security product installer only from the appropriate BitDefender direct links furnished above.


3) Since some problems with the installation process of BitDefender 2012 have been experienced, please check that no devices are connected to the USB ports of the PC (mainly pendrives or external USB HDDs).


4) To expedite the installation process, it is recommended to disconnect the PC from Internet and begin installation by executing the downloaded installer with administration privileges.


5) During installation process, choose "I want to evaluate this product" and enter a fake e-mail (always observe e-mail format standard).


6) Restart the PC if you are asked to do so (normally this occurs when malware is found while the PC is scanned by BitDefender during installation).


7) Renable Internet connection and update BitDefender.


8) Download the Patch by BOX 3.1 ("Box_BD2011_3.1.rar") from any of the above furnished links to the Desktop.


9) Restart the PC in Windows Safe Mode (when the BIOS post ends, start taping the F8 key repeatedly). If you cannot succeed to start the PC in Safe Mode by taping the F8 key, then proceed as follows: ---->
Click the Start orb => "All Programs" => "Accessories" => "Run" => type "msconfig" and click "OK" => The "System Configuration" window will open (provided that you have administrator's privileges) and click the "Boot" tab => In the "Boot Options" area, tick "Safe boot" ("Minimal" will appear selected by default), then click "OK" and restart the PC (NB: After patching BitDefender when you restart the PC, msconfig startup settings will revert automatically to their original configuration: Windows Normal Mode).

10) Once in Safe Mode, extract to the Desktop the file "Box_BD2011.exe" from the downloaded compressed file which contains the patch by BOX 3.1.


11) Right click "Box_BD2011.exe" and run it with Administrator's privileges and click the "Year 2045" button. Then wait until you are advised that the patching process has finished successfully.


12) Now restart the PC in Windows Normal Mode and your BitDefender will be registered for more than 12000 days.
IMPORTANT NOTICE

:

Though the Patch by BOX 3.1 makes reference to BitDefender 2011, the Patch by BOX 3.1 is fully compatible with and successfully patches all BitDefender 2012 Security products.



For safety sake, the original and untouched Patch by BOX 3.1 ("Box_BD2011.exe") has the following CRC32 file hash: 21B76E36.





IT IS WORTH MENTIONING THAT THE PATCH BY BOX 3.1 IS SAFE AND CLEAN

.



Some AVs may detect the Patch by BOX 3.1 as a trojan/virus/malware but such possible circumstance is called "

FALSE POSITIVE

".