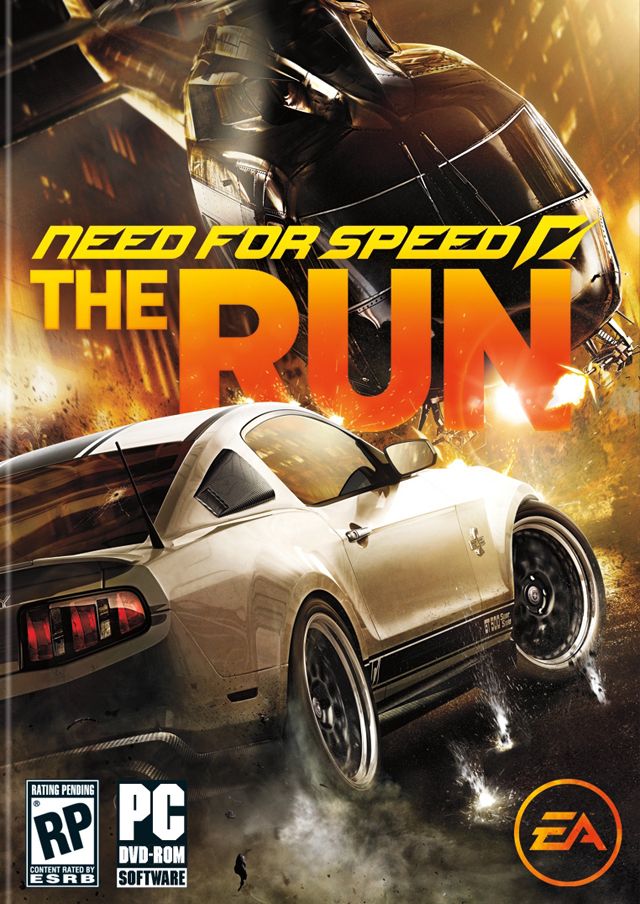 Description: «The Run» - racing competitions, in which the rate is incredibly high. The only way to survive - the first to complete a perilous journey from San Francisco to New York. There are no speed limits. There are no rules. There are no friends. In opposition to the hundreds of desperate drivers in the most dangerous roads will have to rely only on their own driving skills and determination. Indeed, in Need for Speed ??The Run you have to maneuver at breakneck speed on a busy city streets, to overcome the mountain passes and deep canyons, while trying to avoid encounters with the police, who will stop at nothing to stop a mad race participants.
The Race of Your Life
It's called The Run. An illicit, high-stakes race across the country. The only way to get your life back is to be the first from San Francisco to New York.
No speed limits. No rules. No allies. All you have are your driving skills and sheer determination as you battle hundreds of the world's most notorious drivers on the country's most dangerous roads.
In Need for Speed The Run, you'll weave through dense urban centers, rocket down icy mountain passes and navigate narrow canyons at breakneck speeds, all the while evading a relentless police force prepared – and willing – to use lethal force to take you down.
Features:
From the Golden Gate to the Empire State — Compete in The Run, an illicit race across the most iconic and treacherous roads from San Francisco to New York. There are no rules and no allies in the cities, deserts, mountains and canyons than stand between you and the finish line.
You are Jack's Competitive Edge — Jack is in a race for his life, but he's got something the competition doesn't: You. Keep Jack one step ahead of the dangers from his dark past, both inside and outside the car. It's up to you to get Jack to New York in one piece and ahead of the competition.
Beat Your Friends — Connect to Autolog. Compare your times against those that matter most. Compete to be the best. Autolog now tracks your entire career – making every second of every race count in the battle to be the fastest to New York.
Racing Powered by Frostbite 2 — The powerful new Frostbite 2 engine, created by the award-winning DICE studio, advances technical achievements to deliver a gameplay experience with an unprecedented level of visual detail, environmental immersion, and emotional impact.
Compete in High Octane Multi-Player Racing — The most accessible online racing experience ever offered. With matchmaking technology, join races already in progress instead of waiting in lobbies. Create a party with friends, pick a playlist of your favorite challenges and compete for supremacy across every stage of The Run. By mastering all of the playlists you can level up and earn access to exclusive vehicles, upgrades and abilities.
Minimum System Requirement
* OS: Windows Vista SP2 or Windows 7
* CPU: 2.4 GHz Intel Core 2 Duo or equal AMD
* RAM: 3 GB
* HDD: 18 GB free disk space (actual install 17.1GB)
* Graphics: 512 MB Graphics Memory
* DirectX: Version 10
* Network: 512 KBPS Internet connection or better
1GB links are interchangable
Billion Uploads 1GB links 1GB/ 16 Downloads
*includes RELOADED original crack file
Languages: Russian, French, Chinese, Italian, Czech, Dutch, German,
Spanish-Mexico, Spanish, Polish, English
5% Winrar Recovery Record included in downloads
https://safelinking.net/p/52aca2cb66
password: tooth
Huge Files 1GB links 1GB/ 16 Downloads
*includes RELOADED original crack file
Languages: Russian, French, Chinese, Italian, Czech, Dutch, German,
Spanish-Mexico, Spanish, Polish, English
5% Winrar Recovery Record included in downloads
https://safelinking.net/p/b95e35e1b1
password: tooth
RELOADED updated Crack files (2). Missed a Steam check file.
*this updated crack not in your game download.
https://safelinking.net/p/9ee3a84398
password: tooth
https://safelinking.net/p/f2e0f03cc7
password: tooth
How to install RELOADED version...........
HOW TO CHANGE LANGUAGE (for people who run nfs16setupreg.exe)
Start -> Run-> Regedit
Win7 32 bit
Code:
HKEY_LOCAL_MACHINE\SOFTWARE\EA Games\Need for Speed(TM) The Run
Win7 64bit
Code:
HKEY_LOCA_MACHINE\SOFTWARE\Wow6432Node\EA Games\Need for Speed(TM) The Run
Change Locale key to
en_US

other langs:
German: de_DE French: fr_FR Italian: it_IT Spanish: es_ES Polish: pl_PL Japanese: ja_JP Czech: cs_CZ ............
CRASH FIXES
avitor12 wrote:
hi
ho dos runing NVIDIA driver mostlly have problem with the game speed-game runing to slow.
here is the solution
go to your NVIDIA CONTROL PANEL and change -select a PhysX procesor to "CPU" and in manage 3D settings> add the game exe to that list
t
Need For Speed: The Run Crash To Desktop ( CTD ) While Trying To Load, During Gameplay, Or Upon Startup
● Update your nVidia / ATI graphics drivers.
● Turn off SLI / Crossfire
● Turn off your anti-virus software before launching the game, but make sure you turn it back on after playing.
● Try using only one GPU first (turn the other one off via your graphics control
● Disable anti-aliasing through your video card's control panel
● Disable V-sync
● Disable background apps, and turn off your anti-virus software
● Disable visual themes and disable desktop composition
● If on Windows 7 or Vista, then try to set the compatibility for your game EXE to Windows XP Service Pack 3 (SP3)
● Run the game as an ADMINISTRATOR (Windows 7)
● Make sure to check also your controller/gamepad drivers if you have any, it might be conflicting on the game.
● After installation, reinstall PhysX, removed your old drivers profile from My Documents
NFSTR Game Controller Not Working
Have a Xbox 360 controller, Steering wheel attachment, or some other USB device for playing this game? Good — that's how it should be played after all. If your USB device is not working, then try the following…
– Plug in the controller BEFORE you open the game
– Unplug other USB devices that you are not using, especially if you have ANOTHER game controller plugged in
– Update your game controller drivers using the official drivers
– NFS officially support all X input / Direct X compatible controllers
– Set your options for Need for Speed The Run to what you're using — Keyboard, Wheel Controller, etc
– This may sound odd, but unplug your mouse and keyboard! The Razer Nostromo and others are causing issues with detection and even acceleration.
– If you use Logitech software, then close Lcore.exe in task manager! This some reason causes problems for some people
There are apparently some key mapping issues too. They don't stick or save for some people. Note that a patch is being released soon and it may help with that.
Need for Speed The Run Sound Messed Up / Not Working
This pertains to people who have no audio or music, or crackling sound. Other sound issues exist too — such as muted or low volume, stuttering, etc. It can effect your headphones, surround sound speakers, and headsets too. Try these solutions:
– Set your Windows speaker configuration from 7.1 or 5.1 to 2.1
– Change your audio playback to 16bit 48000hz
– Upgrade your sound card drivers
– In DirectX Diagnostic Tool (Start -> RUN -> DXDIAG), go to the "Sound" tab and under DirectX Features turn off hardware sound acceleration
– Lower your Sample Rate Conversion Quality from "best" to "good" (Control Panel -> Sounds and Audio Devices -> Volume -> Speaker Settings -> Advanced -> Performance)